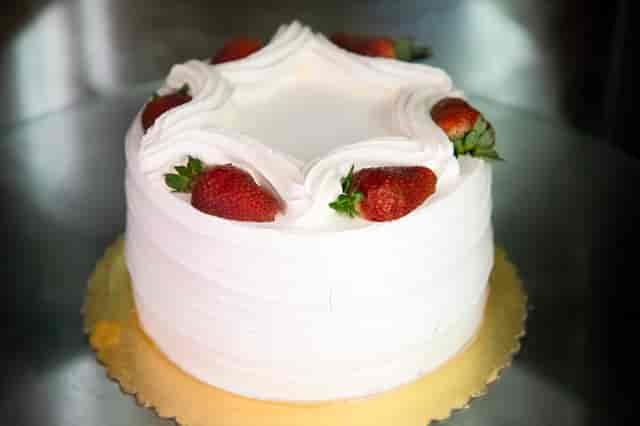 Wedding Cakes
Your Dream Cake Starts Here!
Our reputation, experience, and techniques are just a few of the reason you will choose Rockwell's to be a part of your big day. Rockwell's was established in 1987 and has provided wedding cakes to many happy couples.

Our professionals use state-of the-art equipment and 3-D sculpting techniques to create colorful cakes that taste every bit as good as they look. You can choose from classic white, tasty marble or decadent chocolate cake and then add a filling of chocolate mousse, raspberry mousse, banana mousse, Venetian or whipped cream.

We encourage you to call 714-921-0622 for an appointment so the bride and groom will have an opportunity to taste Rockwell's legendary cakes, matched with fillings of their choice. Our wedding cake consultant will walk you through Rockwell's design ideas to get a feel for the style of cake you are interested in. It is a good idea to bring any inspirational pieces with you that may assist in the design process. By the end of the appointment, you can expect that you will have a completed order for your big day! Most appointments take about 30 minutes. Call today to schedule your appointment 714-921-0622 or you can email a request for a date to cakes@rockwellsbakery.com.
FAQ:

Q. Do we bake fresh?
A. Yes, your cake will be baked fresh for your event.
Q. Is the product baked on site at Rockwell's in Villa Park?
A. Every ounce of our product is baked on site. Retail or Wholesale it all comes from Rockwell's Villa Park location.
Q. How far will you deliver?
A. As far North as LA as far South as San Diego
Q. Do we offer butter cream and rolled fondant?
A. Yes, Rockwell's uses the finest ingredients to create the best tasting butter cream and fondant in the industry.
Q. Can we copy cakes out of magazines?
A. Yes! We can do an exact replica, or you can add some personal touches to the design you found. We are happy to cater to your specific needs.
Thank you for considering Rockwell's and congratulations on your big day!
Contact Us
Contact us for a custom cake!